If you've decided to purchase a piano, you've probably started the process by doing a little homework. That's probably what's brought you to this site here.
As a piano dealer with decades of experience, you'll find a wealth of information for what to look for when you're buying either a new or used piano.
Expert Advice For Choosing A Piano
The Price You Should Expect To Pay For A Used Piano
What Wood Is Best For Making A Piano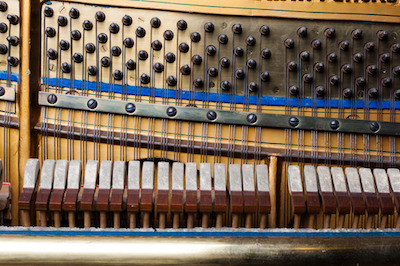 We know how confusing it all can be. What makes a one manufacturer different from another? How can you find a good used piano? What makes each piano different? And more importantly, whose advice should you trust?
Some people will have you believe that a piano is a piano – they are all about the same no matter where they come from. Not so. Some will tell you there isn't much difference in sound from one piano to another. Not true.
In fact, it's easy to compare how well a piano is built no matter where it's assembled. It's not just the sound; it's the way they are made. Open up every piano you are considering and take a look at what's inside.
The soundboard – a great piano will be made of spruce (the most common wood used in piano production) with continuous parallel grain. Look for consistency in both the grain and the color.
The plate gap – for the soundboard to work efficiently, it needs to move freely. A good piano will float the plate gap between the frame and the soundboard to allow that freedom of movement.
The frame – on an upright, look for a solid wood frame construction with backposts that reinforce the plate.
The bass bridge – the shape of the bridge will tell you the quality of construction. A curved bass bridge is designed to connect with the sweet spot of each string, whereas a straight bass bridge will muddy the lower notes.
The action – each action should be consistent and made of similar wood. If you see grain differences and spots on the wood, it can change the voice and the sound.
The differences matter in both the sound quality and longevity. Don't rely on a salesperson telling you it's a great piano. Do a little investigation to determine its quality on your own.