MANUFACTURER FACTS The largest piano in production in the world. – 4 1/2 years to build in Vienna, Austria  – the imperial has 97 keys, i.e. eight full  octaves know only to the Imperial Bösendorfer. Combining a very powerful  sound-board and a high proportion of sound-spruce from the Fiemme Valley  in the South Tyrol, this piano's sound is almost orchestral. The Bösendorfer  "resonating box principle" which views the entire instrument as a cohesive  whole, generates unsurpassed power and poignantly full tone.
Experience the musical journey of "the Best of the Best  in the World.  Bösendorfer Rich musical history of Vienna " The romantic city of music"
Royal Concert Grand 9'6″
MODEL 290
Imperial Bösendorfer.   
Hallmarks of Bösendorfer grand pianos:
They are built by hand in Vienna, the music capital of the world
they are built using the highest possible proportion of sound  spruce
they have a screwed-on capo d' astro bar in the treble
they have single  stringing
the open wrest-plank ensures excellent tunability and tuning stability due to the optimum fit of the tuning pins in the wrest-plank.
Semi-Concert 7'4″ (225)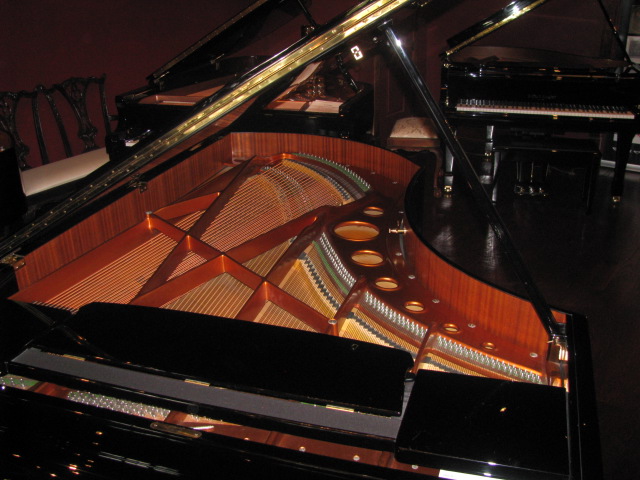 The 225 model has been made entirely in the tradition of B?sendorfer.  It has been considered by many pianists to be the finest piano model in the world.   It immediately had a remarkable success as a performance instrument; a success that is well founded.  It's design and size allow a wealth of tonal colours all the way from sensitive pianissimo to powerful fortissimo.  It also benefits from extra keys in the bass: four keys to subcontra F.  This helps explain the popularity of the model 225 as the best chamber music and solo instrument in it's class.   This semi concert does not necessarily require a stage, as it can also  sound wonderful in your home.  This piano makes a statement as being the very finest in the world.  Only a handful of these fine pianos are made each year.
There are only a few hundred in all of the world.  B?sendorfer uses the finest materials and hand workmanship to create one of the very few most sought after brands which is valued as the very finest as well as among the most expensive.
Bdsendorfer uses a wider tail and unique spruce rim and lid construction to create a tone which is much richer, clear, and colorful than most brands-including  Steinway, Mason& Hamlin, Yamaha, and famous European brands such as Bechstein, Hamburg Steinway among others.  This is the size which piano
professors seek for their studios, the smaller concert stages and their churches.
1890