Playing the piano takes a lot of practice and dedication. With patience and time, you can greatly improve your piano performance. However, you need certain accessories in order to accomplish your piano playing goals.
Here is a list of some piano accessories you will need in order to improve your piano performance and protect your investment:
Bench– While consumer-grade pianos usually come with their own benches, performance-grade pianos are usually sold separately. If you are looking for comfort, padded benches are a good choice. Benches will solid tops last longer, but they are susceptible to scratching. Bench cushions are also available for solid tops. You can also purchase an adjustable bench if multiple people in your family will be playing on a regular basis.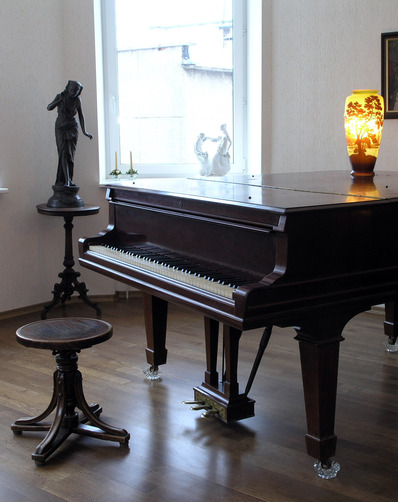 Lamp– Playing the piano requires lighting that allows you to read the music without shadows. This is when a piano lamp comes in handy. You can get a floor model or a desk version, and of course there are all kinds of sizes and styles. Fluorescent lamps will result in a softer and less harsh light that will suffice for your piano playing.
String covers– These are highly recommended for grand pianos, and come in many different colors. Wool string covers protect the strings from dust. Simply place the fabric over the sound board and strings when not in use.
Cover– Have a lot of action in the area where your piano resides? You'll want to protect your investment by covering your piano. There are many piano covers available to protect its finish. They come in many sizes to fit your particular piano, and are available in water-resistant fabrics.
Caster cups– Placed under the wheels of grand and vertical piano, caster cups protect your carpeting and floor. They are available in plastic, wood, and in clear acrylic that allows the carpet or hardwood floor to show through.