While your new piano is self-sufficient and doesn't require a lot of things to make it operational, there are a few accessories that you might want to consider.
Piano Covers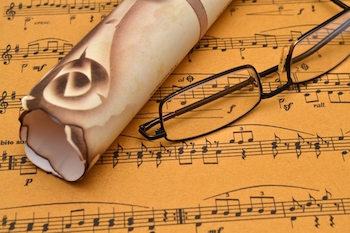 In most homes, a piano is more than an instrument; it's a part of the décor. Because of the quality, it's often purchased to match other furniture throughout the home, and is designed to add value and charm to whatever room you choose. However, if you've purchased a piano for a church or a school, a piano cover may be in order to protect the piano's finish from accidental damage, as they are usually placed in rooms with a lot of activity. Piano covers come in vinyl or mackintosh, which is a very tight weave fabric that provides water resistance. Most are black or brown in color, and have a fleece like material on the inside to keep the piano finish safe and scratch free. You can get thicker pads for more protection if your piano is moved on a frequent basis.
Bench Cushions
In order to make your wooden piano bench softer, a bench cushion is available. Bench cushions are made in a variety of sizes, thicknesses, colors and fabrics. They come in tufted or box edged format, and all have straps to secure them around the bench.
Grand Piano String Covers
String covers are available for your grand piano, designed as a way to provide a reduction in sound volume, and to be used as protection against dust. They are available in a variety of colors designed to compliment your piano's finish.
Caster Cups
Caster cups are small cups to be placed under the wheels of a piano in order to protect the flooring. They come in a variety of shapes, colors, sizes and materials, including plastic, wood and acrylic. You can find them designed to match your piano, or choose acrylic to allow the carpet or hardwood flooring to show through. If the caster cup has felt on the bottom, be aware that the color dye can sometimes bleed through into the carpeting because of the weight and pressure applied.
Pedal Extenders
A pedal extender is designed to aid a person whose feet do not comfortably reach the pedals. They can be as simple as a brass pedal that bolts onto the existing pedal, or a more sophisticated box design that is finished to match the piano and give it a complimentary look.
Metronomes
Whether you are a teacher or a student, a metronome is designed to help improve timing. Metronomes come in a variety of shapes, sizes and colors, and are available from the very basic to new digital models.
Lighting
Whether you choose lighting that attaches to your piano, or a lamp that sits off to the side, good lighting is essential as you read through your music. Whatever your tastes, there are lighting choices perfect to compliment your décor.
Have additional needs for your piano? Give us a call or stop by today for one of the widest selections of piano accessories in the Memphis area.