Today's piano benches come in hundreds of styles with a variety of legs, wood finishes and fine fabrics. If you are in the market for a new piano bench, here are a few things that can help you select the right one for your piano and for your playing style.
Grand Piano Bench vs Upright Piano Bench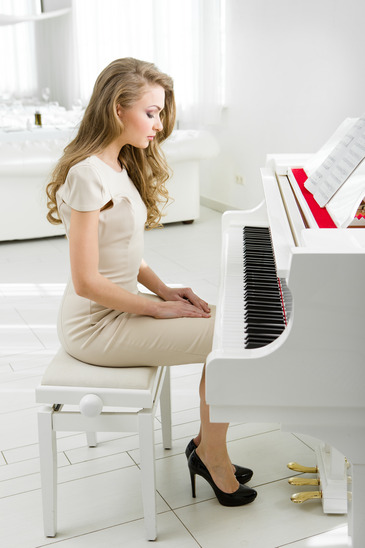 A grand piano bench (sometimes called a duet bench) is generally between 33 and 36 inches wide. This size bench is proportionate to the width of a grand piano or a full upright, and is perfect if you would like two people playing side by side (hence the name duet bench). Many come as adjustable so they are perfect for growing children or for people that practice for long periods of time and like adjustment every once in a while.
An upright piano bench is generally 30 inches wide and is used with all sizes of upright pianos.
In many cases, people will attempt to save money and choose an upright piano bench to go along with their grand piano; you won't be happy. Each comes at specific heights designed for the appropriate piano. You will likely be sitting in the wrong position, and it may look out of place when compared to the piano.
Both come either with a wood top or with an upholstered top. The choice is yours – both offer comfort and style, it just depends on your décor and the type of look you are trying to achieve.
Grand pianos offer a third type of bench: the adjustable artist piano bench that offers comfort, durability and appearance. The height is adjustable, meaning you can dial in your desired height for the most comfortable use. These benches come in three sizes: the 21 to 22 inches long standard, the 32 to 33 inches long duet, or the petite, which is the length of a standard, but not as deep, running 13 inches wide as opposed to the 16 or 17 inches of a standard or duet.
What Should You Know About Purchasing A Piano Bench?
There is no true indication of a right or wrong, good or bad piano bench. Piano benches are personal choices, and you can find lovers and haters of almost every piano bench ever made.
However, keep in mind that piano bench manufacturers are finite in nature, meaning only a select few manufacturers make piano benches; its not a mainstream piece of furniture you'll buy for your home. While some discount retailers may try and get you to buy a bench based on price alone, a lot of factors go into choosing the right bench for you. You must take into account the size of your piano, how you prefer to play, whether your child is still growing, and your individual needs.
The best way to choose the right piano bench is to give it a try first. Stop by and give them a try. Sit on several benches at a piano of similar height to yours at home. You'll quickly see the difference and determine the right bench for your needs.