Did you know there's a proper way to sit?
Sitting the wrong way can cause a variety of health problems, including heart disease, circulation disorders, strained neck, bad back, muscle degeneration … the list goes on and on.
We're just now starting to realize the impact sitting for long periods of time has on our physical body. But science is also discovering that it can impact other things too, such as your ability to play the piano.
Slouching is bad. When you slouch at the piano, your shoulders are curved, your back is rounded, your head tilts down. It isn't a pretty sight.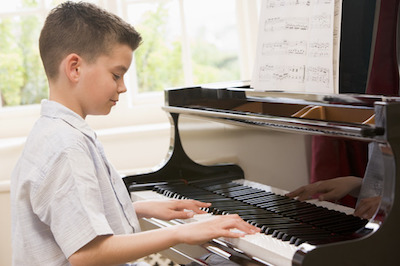 Now compare that to someone who sits up straight. They're engaged. They are fun to watch. And they play better too.
Remember the old adage: sit up straight? You may have heard that in school or even with your first piano instructors. Turns out that isn't true. There's more to it than sitting up straight. It's about good posture first and foremost.
If you "sit up straight", you tend to puff out your chest, which also puts your back at risk.
Instead, focus on sitting so your tailbone is properly aligned. Imagine a tail sweeping out and away from your body. Sit properly to ensure it's comfortable.
It's not just about sitting. Your hand placement should also be placed in proper position. If they aren't, your arms and hands will start to hurt, especially if you practice hours each day. This strain can lead to a variety of health problems.
Good hand placement doesn't just make you better at playing, it also impacts your tonal quality. The person who is hunched over can't get the same power into the notes that someone sitting upright and fully extended.
For proper hand placement, sit far enough away from the keyboard so the fingertips rest on the keys without effort. The feet should reach the pedals without stretching. Your fingers should naturally curve in toward your body, with your knuckles slightly curved away. The wrist should be relaxed. Your arm should never tense.
While this might feel unnatural at first, with practice, you'll feel better, and play better too.