A piano is a major investment, and it needs some tender loving care from time to time.
Without the proper maintenance and care, your piano will decrease in value. If you keep all of the parts working well and the piano itself maintained, you can enjoy your piano for many, many years, and perhaps pass it down as a family heirloom. However, this is only possible if you take care of your piano.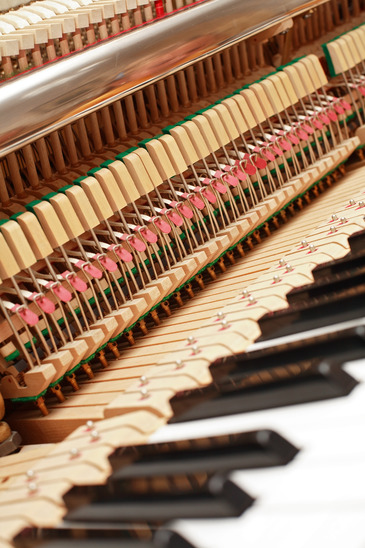 Here are some basic rules for caring for your piano so that it will last will years:
Get your piano tuned. It is a worthwhile investment to keep your piano in tune. Tuning is not synonymous with use. Many people think the more it is used, the more tuning it will need. A piano is tuned to maintain its quality, whether its used every day or only once a year. Check with your dealer, but as a general guideline it is recommended that a piano technician tune the piano twice a year, three or four times a year if it is brand new. It will sound its absolute best when it is properly tuned.
The best times to have your piano tuned is in the fall and in the summer, when transitions are occurring in the weather and the environment.
Be mindful of where you put your piano. Generally, you don't want to keep your piano in a place where the humidity and temperature constantly fluctuates. Outside walls, near large windows or sliding doors, or in drafty areas can compromise the quality of your piano. Also avoid sitting next to a heating/cooling duct, or in an area where it will get daily doses of sunlight.
Keep your piano clean. It's a good idea to keep your piano covered when not in use to help keep it clean and free from dust accumulation. You can periodically clean the piano keys yourself by wiping them with a damp cloth and again with a dry cloth. You should never use chemicals of any kind on your piano keys.
Maintain the piano's finish. You can maintain the finish of your piano by wiping it with a damp cotton cloth. You can also remove fingerprints with a reliable emulsion-type, water-based solution. You should avoid spray polishes that contain silicone.
Play your piano regularly. Idle pianos not only fail to get the proper maintenance they require, but they require tuning and much more after sitting with no activity. Plus, if you play regularly, you'll get more practice!