Can anyone repair your piano? Can anyone tune it efficiently? The answer, of course, is yes. In fact, there are many websites and books that will tell you how easy it is to perform, and how in some cases you can do it yourself.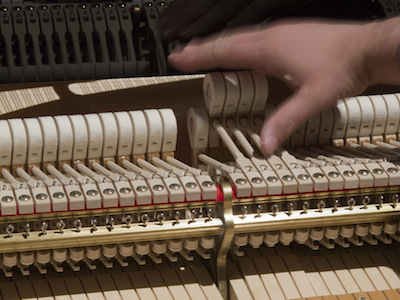 Repairing a piano isn't brain surgery. Yet a piano is a delicate instrument with thousands of parts that work together to create beautiful sound. And if even one piece isn't working up to par, it can impact the sound entirely.
The field of piano technology is unregulated. A registered piano technician is a member of the Piano Technicians Guild that has established standards of quality for piano technicians, giving you some assurance that they are experts at what they do.
To obtain a registered piano technician classification, a member must pass three examinations:
A written exam that tests knowledge of piano design, tuning theory, repair techniques, and other topics related to piano technology
Two practical hands on exams that test tuning and technical skills
On the tuning exam, the candidate must match as closely as possible a master tuning created by the examiners. The exam is scored by using sensitive electronic equipment to record how closely the candidate's final process compares with the established norm. They must demonstrate their ability to tune by ear, unaided by electronic devices.
The technical exam requires a candidate to demonstrate their skills in assembling a grand and a vertical piano action and in making the adjustments (regulation) so that they function properly. They must also demonstrate that they can make all common repairs involving the wood, cloth, felt, piano wire and other common materials used in creating a piano.
Only registered piano technicians can use the title in their marketing. And if you see the title, you can be assured that the person you select has a wealth of knowledge behind them in working and adjusting pianos.
Who are you trusting your piano to?
---
Since 1960, Coltharp Piano World has represented the finest pianos in Memphis, Tennessee, the Midsouth and the world. In addition to quality sales and service we offer moving services, restoration services and master piano tuning. We offer the best new, used and vintage pianos anywhere. And our prices simply cannot be beat. Come and see our newly remodeled showroom and our beautiful new concert hall. We specialize in piano restoration for the southern United States. We welcome your call.
We are located at: 4447 Summer Ave, Memphis, Tennessee 38122 Call us at 901.682.1172