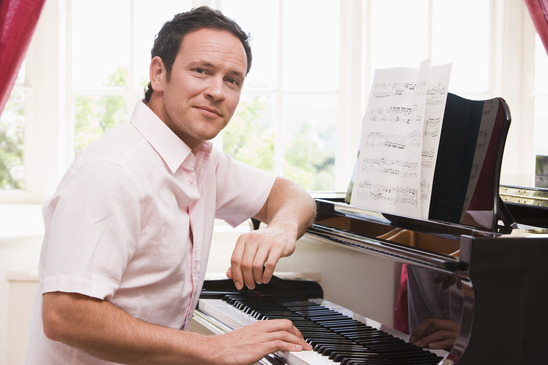 Whether you are just learning how to play the piano, or you have been playing for years, posture at the piano is essential to comfortable playing. If you are not sitting in the correct position at the piano, you may find yourself with a sore back or neck. You may also find yourself struggling to play the instrument. Here are some tips to keep in mind to ensure that you are always sitting in the right position at the piano.
Sit with only your knees under the piano keys. Do not sit all the way forward in the same manner that you sit at your desk. Your thighs should not be under the piano keys – only your knees. If you sit too far forward, your arms and hands will not be in a comfortable playing position.
Make sure your feet are flat on the floor. Your legs should be in a relaxed, comfortable position with your feet just on the floor. You should not have to stretch your feet to place them flat on the floor. You also should not have to over-bend your knees. Your feet should just reach the floor in the flat, relaxed position. If necessary, use a small step stool underneath your feet to make sure your legs are in the right position.
Do not sit on the entire width of the bench – only the front half. This will keep your upper body free for movement as you play the entire expanse of the keys.
Think parallel when sitting at the piano. Your forearms should be parallel to the floor when your hands are on the keys. Your thighs should also be parallel to the floor or nearly parallel to the floor. Keep your music in front of you at eye level. If you need a boost to make sure you are sitting at the right height and in the right position, use a small pillow or cushion.