If you are in the market for a piano, you'll quickly find that there are many more options with upright pianos versus their counterparts, the grand piano.
Yet when most people think about a piano, and choose to put it on display in their home not just as a musical instrument, but also as a piece of art, more than likely the grand piano will be the instrument of choice.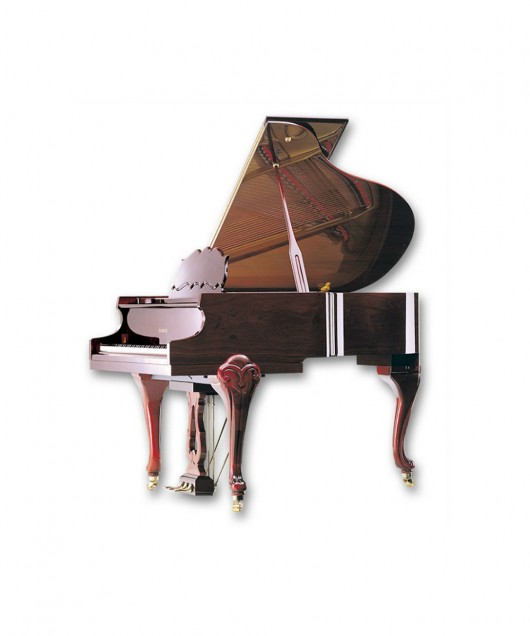 Grand pianos come in a variety of woods: mahogany, cherry, walnut, oak are the most common. In some cases you'll find an ebony piano, which is made of inexpensive, sturdy veneer that has been painted black. Higher priced pianos may be constructed from exotic woods such as bubinga or rosewood.
In addition to the type of wood itself, the piano can also be finished in a variety of ways. You'll typically find pianos finished in either a high gloss or satin finish; high gloss gives a mirror-like effect, where as satin reflects some of the light. You'll also find flat finishes, more common in European pianos, in which the grain is not filled in before finishing, giving it a grainier texture with an overall flat lighting quality. And in some cases, you can special order a piano in a variety of colors, including ivory or white, or even in bigger and bolder colors such as red or blue.
Most piano finishes are either lacquer or polyester. Lacquer was the most popular finish during the 20th century, with polyester becoming more popular in the 80s and 90s. Lacquer finishes are a smoother finish, which also means they can scratch easier than their counterpart, the polyester finish. Polyester finishes are more durable, and are a great choice in high traffic areas, such as a church or a school.
While the overall look of a grand piano is one that is easily recognizable by all, there are distinct qualities that can add style to your final selection. A traditional grand piano has a solid piano case, straight or slightly tapered legs, and usually a rather plain, solid music rack above the keyboard.
A Victorian style brings out the finesse of the late 1800s, with large, round fluted legs and a fancy music rack. Still other styles, such as the Queen Anne or French Provincial, provide elaborate curved legs similar to the period in which it originated, and will offer embellishments and music racks that compliment the style.
Whether you have a specific look and style in mind, or simply want to have artistic expression in your home, a grand piano can add style like no other piece of furniture can. Let us help you find the perfect addition to your home today with a grand piano.