If you took lessons as a child, you probably remember getting new books of music every few weeks. Your teacher would present you with new music, and you'd carry it back and forth as you learned to play. The music would stack up on the side of your piano or in your piano bench as you worked your way through different music.
Things have changed since then. In many cases, people no longer carry along a file folder of music, but instead tuck away all of their music on an iPad. It's easier to carry your entire library conveniently in one place.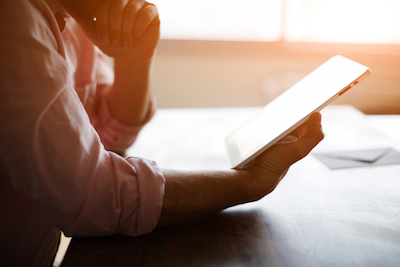 Today's iPad comes in four sizes: 12.9, 10.5, 9.7, and 7.9 inch retina displays. Each size comes with its own benefits and upgrades. While the smaller version is less expensive and is easier to tuck away into your bag, it's also the most difficult to see, especially if you place your music several feet away. The larger size makes reading music more convenient. It also comes with a higher price tag.
It also extends beyond the screen. There are many apps and attachments that can help you get even more out of your digital experience.
Start with a Bluetooth foot pedal. With the PedPro, you can quickly and silently turn the pages all with a tap of your foot. And it comes ready to work right out of the box – no setup.
You can place your iPad on a traditional music stand. However, there are many digital stands available that give you more flexibility when moving your music around. iPad's are heavy; putting them on a traditional stand can be risky. iPad mounted stands keep your iPad secure and make it easy to move and turn your music, depending on your needs.
Another tool to consider is the Apple Pencil. As you progress with your music, you're more likely to write notes on the scores. Apple Pencil is easy to carry around and gives you the ability to mark up your music whenever you desire.
Finally, there's the music. iPads make it easy to carry your entire library in one convenient place. If you have traditional music, snap a photo or upload a screenshot and keep it safe in one place. Plus you'll never need a music light to see your music; it comes already in place.
A quick search will give you ample suggestions for places to find piano music. Consider using a variety of apps to help organize your sheet music, help your practice routine, and help you become a better player. Try:
forScore – the music reader for iPad. It gives you the power to organize all of your music into one convenient app.
Notion – allows you to compose, edit, and play scores anywhere your iPad can go.
Tenuto – a music theory app that requires no internet access – great for playing on the go.
Genius Scan – lets you scan any document, any time. Perfect for digitizing all of your music into readable documents.
GoodNotes – this allows you to take down notes, store them, and have them fully searchable forever. Try creating your own music using the music template.
How do you use iPad to help you play piano better?