What do some of the best piano players in the world have in common? They all have participated in piano competitions throughout their careers.
Competition is often what drives humans to succeed. It has a way of making you into a better piano player by allowing you to see how well you stack up against others with the same drive.
It puts pressure on to practice
The biggest benefit is it gives you a reason to keep up your practicing skills. You'll have a clean and concrete deadline in front of you to motivate you into action. Knowing strangers will be watching and listening is often a very good motivator to keep you focused over time.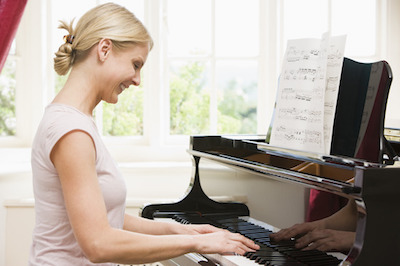 It gives you performance experience
Getting up in front of an audience is one of the most widely feared activities. While most of us dread the opportunity to speak in front of a large group, playing can increase your fears. It's nerve-wracking to be in front of judges, but it also can be exciting. The more you participate, the more you learn how to control your fears. And that can have an impact in all areas of your life.
It can give you more self-assurance
You have to be self-assured to enter a competition. Your self-assurance will build the closer you get to competition, and with the more competitions you enter. It's not the outcome that matters most, but your ability to put your actions into place to do what's necessary to get there. That kind of attitude can open up the world to you by teaching you to say yes to more things.
If can introduce you to new people
By attending competitions, you'll be introduced to other musicians, judges, and other people in the industry that can influence your piano goals and desires. Even if you don't necessarily plan on pursuing piano professionally, you may be introduced to ideas you've never considered. Some consider it a great way for being referred to a gig, or finding a group of musicians to jam with from time to time.
Want to get involved in piano competitions this year? We can get you started with a few links to piano competitions around the world:
Do a quick search for your local area. Or check with your instructor to find competitions near you. Don't worry about how big or small they are when you begin. In the end, it's about finding a way to reach your personal best.