Most people today buy their very first piano with one goal in mind: to learn to play the piano.
But once that piano is sitting in your home, ready to play, where do you turn to in order to learn your very first song?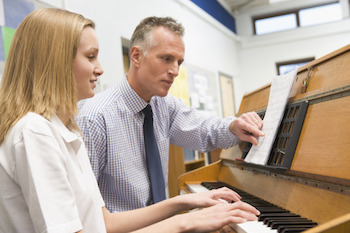 The Internet has changed the way we do just about everything in our lives, and learning to play the piano is no exception. Search the app store and you'll find a variety of apps with the promise of helping you learn notes and scales. You can invest in quality games that combine hitting the right notes in order to gain points and ultimately win the game. You can watch thousands of videos on YouTube alone. And of course if you do a quick Google search, you'll find even more sites promising you quick action and new ways of learning the task of playing the piano.
Is it true? Can you learn to play the piano like a professional simply by playing a game or following the advice of a few free videos?
There are, of course, pros and cons to both methods of learning. And when it comes to learning, people learn in many different way. There is never a "one size fits all" formula to deciphering the best learning style.
Private Piano Teacher
Probably the biggest advantage to hiring a private piano teacher is the ability to have one on one contact with a professional. Because they've had professional training, and have played the piano for years, they understand the nuances of perfecting your ability. They can hold you accountable for practicing each lesson, and help you discover where problem lie and how to overcome them. There's something that helps you stick with it when you know you have a lesson coming up in the next few days.
However, when you hire a private piano teacher, you are agreeing to learn in the style they prefer to teach. If they prefer classical music, you will learn classical music. If you have ideas, they may not be willing to listen because it might not fit in with their method of training. You'll also have to pay for the ability to have one on one contact; something you'll continue to pay for for as long as you choose to take lessons.
Online Learning
One of the greatest advantages of online learning is access to unlimited possibilities. You can find hundreds of learning styles and thousands of applications to help you decipher the notes, scales, and theory. Yet this can also lead to its biggest drawback; if you aren't motivated to keep regular practice intervals going, or if you can quickly become overwhelmed with the amount of possibilities, using online resources can push you to give up your dreams of learning to play once and for all.
While each style is unique, and only an individual can decide which is the best opportunity for learning, the Internet has opened the door to possibilities. In some cases using the two together can increase your knowledge, and help you pursue your music in your own unique way.