What's one of the first parts of a piano that show their wear and tell you it's time for a little R&R (repair and restoration)?
Your piano keys.
Maybe they are missing, broken, chipped or damaged. Maybe they are unlevel and hard to play. Maybe they wiggle from side to side. Or maybe some go down and some don't as your fingers attempt to carry out a tune.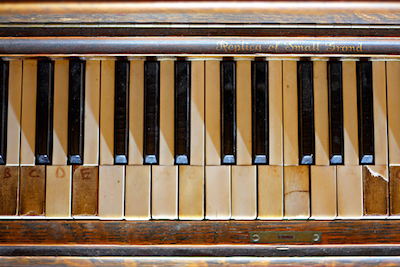 When it's time to repair or restore your piano keys, one or more things may be in order.
Key top replacement – In some cases by simply replacing the veneer on the keys will bring new life to your piano. Keep in mind that there are special considerations for vintage pianos that still maintain ivory keys.
Key bed – In some cases, piano key restoration must include the entire piano key structure down to the key bed. It will include repairing and replacing many of the parts, including key bushings and balance pins.
Balance rail pins – The balance rail pins are what each key lever balances on when the key is pressed to activate the hammer. These rail pins can rust and corrode over time.
Front rail pins – The front rail pins are located at the front of the key bed and hold the key in position at the front. These rail pins can also rust and corrode over time.
Key bushings – Each of the key levers has a hole that fits over the balance and front rail pins. Around these holes is a piano felt which can compress and wear down over time.
Capstans – The capstan is the cap that is screwed into the key lever in the back to connect the lever with the action. It can oxidize over time and cause friction between the lever and the action.
Key buttons – Each of the key levers has a small button glued into place that help balance the rail pin. These can easily become damaged over time.
If your piano isn't playing the way it used to and you know your keys are at least part of the problem, the best place to start is by talking with a quality piano restoration company. In many cases we see people attempting to fix problems with piano keys themselves, or trusting the work to someone that is anything but professional, and it shows in the finished results.
Your piano keys bring life to your music. Without properly functioning keys, your music will never be up to par. If you have questions about your piano keys, give us a call today.