"I have an old piano handed down to me from my parents. I haven't played since I was a kid, but now that I'm nearing retirement I'm thinking of picking it up again. It's been in storage for years, so I know it will need a little work before I can bring it into my home and play it. I know after a little research that the piano market isn't what it used to be. Should I spend the money to repair my piano? Should I just buy a used one?"
Great question; it's actually one of our most popular.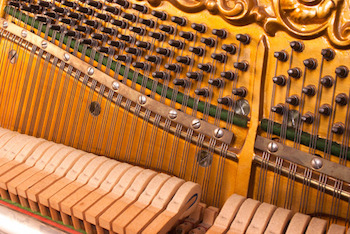 A lot of people have old pianos handed down from parents, grandparents, or other relatives and at some point decide they would love to pick up piano playing again. The only thing is if you've ever played a piano that's sat for years with no repair and no maintenance, you'll quickly discover it doesn't play quite the way you would like it to. The notes sound a little tinny. The scales seem to be a little off.
A piano is a living, breathing instrument made up of wood, wire, and other materials that gradually break down even in the best of conditions. And as those changes occur, a trained technician knows what to look for, how to correct the problem, and how to bring it back to proper working condition.
But when something breaks down and it isn't repaired, the deterioration continues to occur. Over time, small problems can become big problems, requiring more work to bring it up to par.
One of the things you mentioned is buying a used instead of repairing your own. That's an option, but only if you know where the used piano has been. If you purchase a used piano from a friend or from an ad on the Internet, your chances of purchasing a piano in worse condition than the one you own is likely. After all, you know where your piano has been for years; you have no idea where the one you are buying has sat. If you buy from a reputable dealer, you will know its in the best playing condition possible. Anything else may give you more headache than enjoyment.
The second question you asked was whether it was worth repairing your piano. Without knowing the brand or seeing the piano, its difficult to say. But in most cases, repairing a piano to playing condition is a doable option. Does it have sentimental value? If it sat in your grandmothers and parents home for years, it may be an antique you will treasure for years to come. And if it's a well-known brand, it may actually increase in value and hold its investment by making the repairs necessary to bring it back to playing condition.
If you would like to find out more, the best way to move forward is to have one of our technicians see the piano and help you make the final decision.