Are you thinking about buying a piano? Already decided to invest in digital rather than acoustic, but not sure what the difference is between digital pianos and keyboards?
Digital pianos lie somewhere between acoustic and electronic keyboard. Their goal is to mimic an acoustic piano as closely as possible. In general, the higher the quality, the more realistic it becomes. It will be the same length as an acoustic with 88 piano keys. It will allow for a greater variation in sounds due to sound modification.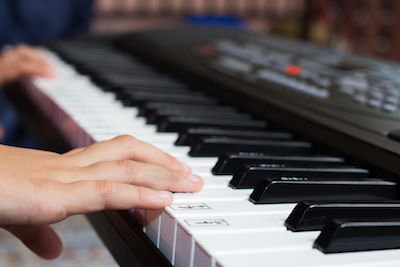 Digital pianos not only have the 88 keys to match an acoustic piano, but they also tend to have weighted keys, which makes them feel more like an acoustic piano while being played. They have built in speakers to further qualify the sound.
Most digital pianos have a MIDI output which allows you to connect them to a computer via the interface. This allows you to record and edit your playing as well as control other sounds and instruments at the touch of a button.
Keyboards are typically smaller than a traditional acoustic piano. You'll often find electronic keyboards with 61 keys – 4 or 5 octaves – as opposed to the traditional piano which has 6 octaves. What makes keyboards unique is their portability. They also provide a wider range of sounds and have the ability to interact easily through MIDI or USB connectors.
When playing a keyboard, you'll notice the keys tend to be a bit smaller and easier to press than a traditional piano. This can take getting used to if you are proficient on a traditional piano. While young children might find this process easier, it's important to keep in mind that transition to an acoustic can be difficult for someone who's learned on a keyboard. The shift in feel can be difficult to translate.
Acoustic pianos are larger, bulkier, and difficult to move. In general, you'll place an acoustic piano in your home and leave it there.
With keyboards, they are portable by nature. You can pack them up after each session, sliding them into a closet or underneath the bed. They work well in apartment or dorm living because they are flexible with their movement. You can also use the headphone feature which makes the playing silent.
Digital pianos mimic acoustic pianos. They can take on any size. You can select an upright to place up against the wall, a stage piano -portable piano – to use with a live band, or even a grand piano to make a statement in any room.
Which piano is for you – digital or a keyboard? We can assist you in any way.