Looking for an ideal place in your home to practice the piano? Here are a few tips to create the perfect environment to make playing fun.
Create the right atmosphere
When you design your home, you decorate for all kinds of occasions. You select colors that match your mood and style. You add accessories to show off your personality. The piano isn't something you just throw into a room and have it set apart from the rest of your decor. Instead, decorate around it to make it blend and flow with the ambiance of the room. Add flowers nearby. Incorporate artwork or photographs to help it blend in. Be sure it's well lit to make playing easier, and to show off your piano.
Have the right tools nearby
As you progress with your lessons, you might be in need of a variety of tools. Music, pencils, highlighters, blank scorepads, paper, a metronome – keep it all close by. Many piano benches have storage built right in. You might also have a storage box or shelves in the room where all of your supplies are close at hand. Having to get up and find tools can detract from your real purpose; it's easier if you have everything close by.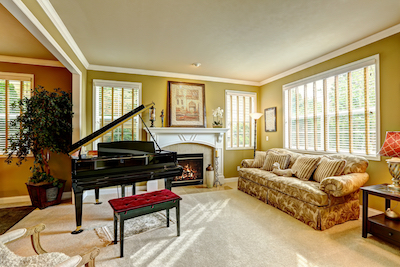 Have goals
What is your ultimate goal as a piano player? Do you wish to do it for enjoyment? Are you hoping to join a band? Do you want to play just for your own relaxation, or is your goal to play for an audience? If you want a room where people listen to your music, be sure to have comfortable seating that is clearly set up to listen to the music. You might even select a room that can change as you progress, including space to move from an upright to a baby grand.
Understand the instrument
Playing the piano is a lot more than plucking the notes and creating music. It also involves understanding the way the piano creates sounds and music. Think of it as a foreign language – you have to work to understand all the nuances of the language. In your music room, you might also wish to incorporate a sound system that allows you to hear the great artists of the world, both old and new. Don't just listen for pleasure, dive in and pull different parts of the music out. Analyze what makes the artist and the performance really stand out.
The more you listen, the deeper you get into the process, the better you'll become.
Playing the piano is a lifetime of learning and enjoyment. And if you enjoy the process every time you sit down to play, you'll ensure it's a process you enjoy for the rest of your life.