"I have a piano handed down from my grandma. I learned how to play on it, and now I'm hoping my kids will learn on it too. We're moving to a new home here in Memphis Tennessee, and I would like to have the piano restored so it looks and sounds great in the main family room where it will be on display. How do I choose the right piano restoration company?"
We speak with many piano players in situations similar to this. And with good reason. When you have a piano that's been in the family for years, and you want to breathe new life into it for the next generation, questions will arise.
That's where reputation comes into play.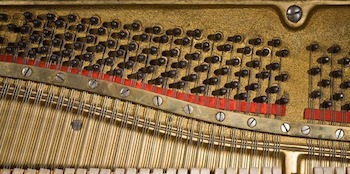 Before you think about hiring a piano restoration company, start by talking with someone you can trust. We've been in business since 1960, and have worked with piano owners from all over the world. The best place to start is with someone who knows pianos well, and has made it a part of their lives for decades.
The first thing a piano restoration company will do is to determine the value of the piano and the probability of it being restored. If its been in your home and well taken care of over the years, there is usually no problem with the possibility of restoring it. Where pianos begin to fail is with years of neglect, often in storage or a garage where the elements can get to it. Once water seeps into a piano, its usually too late for the restoration process. But if it has been well cared for, restoration will only improve its current condition.
When it comes to piano restoration, there are three approaches to the project, depending on the level of repair your piano needs: repair, reconditioning, or rebuilding. Each has a separate process and a different level of investment; we can help you determine how much work your piano will need to return to its prior beauty. Checkout or piano restoration here.
If you are from Memphis Tennessee, the advantage of working with someone from Memphis Tennessee is you'll have a resource you can rely on right in your own home town. Of course we've helped people with their restoration projects throughout the country, and take pride in every job we do. When you want to bring your piano back to life, the most important part of the project is finding the right person for the job. And with decades of experience, we're happy to give you our approach to the project, and help you make the decision that is right for you.