Want to learn to play the piano? Like every activity, there are a few costs involved to make your desires come true.
First, there is the expense of the piano itself. This will be the biggest part of your budget. But there are different ways to fit it into your monthly expenses.
Finding a piano "for free" on Craigslist isn't the answer. In most cases, these pianos have been stored in basements or garages for years, and are often out of tune and no longer playable without major restoration. You'll have more work then you want just to get it into proper playing condition.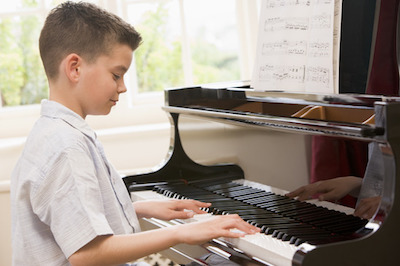 By going to a piano dealer, you can find a high quality piano that meets your budget goals. You can even start out smaller scale, upgrading as your child becomes better and enjoys the process more.
You might even invest in a digital piano instead. If you move to an electronic piano, just be sure it's high quality and has weighted keys that mimic acoustic pianos, and are mechanically similar to the sound and feel of a real piano. Digital pianos do have the added benefit of being able to fit in tighter spots – perfect for apartments, condos, or dorms – and have a headphone jack that allows a person to play without disturbing others in the room.
Of course, the piano is only part of the process. You'll also need to budget for lessons as well. Lessons come in several different structures: one on one, group format, or self taught. For many, a combination of the three is the best choice, giving you what you need when you need it most.
You'll also have incidentals along the way. You'll have to invest in sheet music. You might have to invest in extras such as a new piano bench or a metronome. And if your child keeps progressing, performance attire may be added into the budget.
Playing the piano isn't the least expensive hobby a person can take up. But it can be one of the most rewarding. It's a skill that can last a lifetime.