Every piano teacher remembers giving their very first piano lesson. Nervous? Yes, just a little bit. Excited? More than anything.
Especially in today's world with so much vying for a student's attention, it's more imperative than ever that you dive into teaching with eyes wide open. But what does that mean? Where should you begin?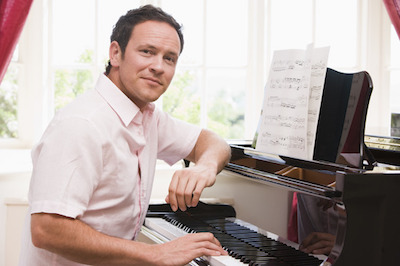 Tip #1 Start with a vision
Most newbie piano teachers have a goal of finding one piano student. And once number one is booked, the focus moves to number two. But have you ever defined what these students look like? What do you want your piano teaching business to look like five years from today? If your idea of a piano student is "anyone who wants to learn to play the piano" it's time to redefine. Will you become an expert for retirees? Will you focus on children under the age of eight? Give yourself a specific target client, and you'll have an easier time finding them.
Tip #2 Continue with a plan
Clearly defining your students will help you develop solid plans. If you are working with adults instead of kids, for instance, you can begin building a strong plan to help them get into the music from day one. Keep things simple and focus on what you'll do day one. Then move to day two.
Tip #3 Take your time
Take your time and never rush things. You have years of experience; your student does not. Slowing down means they have enough time to truly grasp the concepts. You'll know when they're ready to move on.
Tip #4 Be creative
Playing the piano isn't just about striking the notes and hearing a tune. Playing the piano is all encompassing. Teach through improve, singing, playing by ear, stories, games – there isn't a right or wrong way to teach and learn. Try things and see what sticks.
Tip #5 Enjoy yourself
A student learns better from a teacher who is highly engaged and having fun throughout the process.
Tip #6 Pace yourself
Going from 0 to 60 may be great when driving a car, but not in building your piano business. Never get overwhelmed with the number of new students you bring in. Bring in enough that it keeps you focused on helping the beginner and having resources to be able to engage them along the way. Then leave wiggle room to allow you time to read, reflect and plan all over again. This "grow, hold, grow, hold" method will help you evaluate and test, and make changes along the way.
Tip #7 Don't forget this is a business
If you're doing this for a living, you have to make a living. Be sure to spend time on the things that matter to your business. You are a business owner; never forget it.
Tip #8 Keep learning
We're all in this together. You never stop learning, you simply find ways of transferring your increasing knowledge to those around you. Real and listen to others that have "been there, done that" and never be afraid to try something new.