Trying to decide what type of piano to buy? Wondering if you're better with an acoustic piano or a digital piano? Here are the advantages of selecting the digital piano.
1. Digital pianos are more affordable
If you've started looking at different pianos, the first thing you'll notice is cost. Since the sound on a digital piano is produced by sampling an acoustic piano, the price is dependent on quality of the samples used. While you can purchase digital pianos at all price levels, be sure to do your homework and select a high quality digital piano that produces great sound.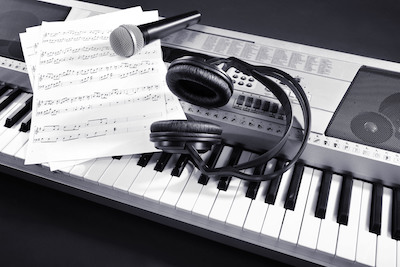 2. No tuning required
Acoustic pianos require tuning to stay in top playing condition. Because digital pianos don't control sound with internal hammers and strings, they don't require the same maintenance to keep them in tune. Your digital piano will continue to play indefinitely.
3. You'll have lots of variety and choices
Prefer an upright or the look of a grand? Or maybe a portable stage variety is more your plan. Because digital pianos come in all sizes and shapes, there are a variety of options available to you.
4. Need less space
Digital pianos offer you the option of leaving your piano on display in a room or tucking it away to save on space.
5. Today's pianos mimic acoustic piano action
One of the complaints with early digital technology is that digital pianos didn't feel like acoustic. No more. Today's technology gives digital pianos the look and feel of their acoustic counterparts. It's often difficult to feel the difference.
6. They produce a high quality sound
The more expensive a digital piano, the better are the sound samples, the high quality sound of the sound produced. Top of the line digital pianos use extremely high quality samples, making the results excellent.
7. MIDI is useful
When most musicians transfer to digital pianos, it's because of what digital allows them to do. With MIDI, you can connect your digital piano to a computer and turn your computer into a recording studio.
8. Digital technology
It's hard to do anything in today's world without connecting to technology. Pianos too. Digital makes a piano have rhythms, different instrument voices, digital effects, and more.
9. Plug in headphones
Digital pianos are perfect in tight spaces. By plugging in headphones, your digital piano becomes silent to the outside world. It's perfect if you have more than one child working on homework, or in a dorm or apartment setting where other people are in close quarters.
10. Internet and expansion
By using the Internet, you can connect your digital piano to a whole different world. Use apps and programs to do everything from learning to play to recording and producing your songs. Many also have expansion slots built in to allow your piano to grow as you do.