As a parent, it's important to expose your child to many different things. And for many reasons, introducing them to the art of creating music should be at the top of the list. But what instrument is best for a young learner? Is piano easier to learn than other instruments? Or should you introduce guitar or violin early on, and wait for more complexity later?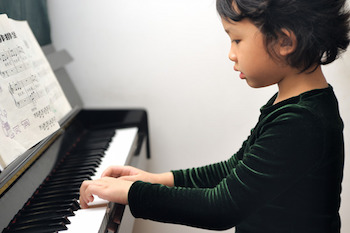 There are many thoughts and rules on when to introduce an instrument. And in a lot of cases it does come down to personal choice. If a child has her heart on being a great piano player, that alone can give her the motivation to become one. It works the same with any instrument out there.
But if you had to pick one instrument to begin with, one to learn on, is piano the "easiest" choice?
In general, the piano makes a great starter instrument for a number of reasons.
Overall, a piano is an easier instrument to play for young children when compared to its string counterparts. To make a sound on a piano, you simply have to press a key. On a guitar, you have to strum at a string (often holding a pick) and simultaneously press down on a string with your other hand. Similar functionality occurs with other string instruments, such as a violin. This two handed coordination can be difficult for some children, and can allow them to become frustrated early on. Which means in many cases they quit long before they realize the fun in producing music.
When kids start playing, they imagine themselves on stage like their favorite pop star, or strumming out a tune in a similar manner to the gaming world. When it doesn't happen as quickly as they anticipate, they can lose interest. To make those sounds on a guitar, a person has to learn chords and lead techniques that won't come in the first little bit of practice. And in fact, it can be very difficult for little hands to master these techniques early on. With a piano, even complex songs can be simplified so a beginner can play tunes they recognize, which can provide them more motivation to carry forward.
The piano is more comprehensive for learning music. Piano music involves both treble and bass clefs, and allows you to play both melody and accompaniment. Instruments like guitar only use the treble clef, and trumpets or flutes will only express melodies. If a child decides to take their music skills to the next level, and pursues music in college, most will have to take some piano because of the complexity involved. The piano provides for a more comprehensive view of how music works. And many students express that they wish they had pursued piano from an earlier age, to help them with a more thorough understanding as they grew.
So is piano easier to learn on then other instruments? While it could be debated, it is true that piano overall will give them a more comprehensive appreciation for the music they make. And isn't that the goal anyway?