Most of us were taught music in some format as a child. Maybe you sang in the musical at school. Maybe you picked up an instrument to play in the band.
But then life got busy and your attention turned in other directions. You still love music, but a musician you are not.
That doesn't mean it can't change. You can still pick up your musicality at any age.
Before you begin, set your goals from the beginning. As adults, goals help us stick with it, even when we get busy or stressed. Do it to: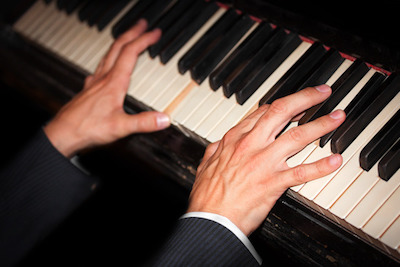 Challenge yourself. Use piano practice as settling into a routine that can benefit your life.
Do something new. Learning music is easy no matter what your age. No athletic ability is necessary.
Play what you love. You don't have to play the classics. Why not play music from your favorite band?
Goals can include things like:
Passing certain levels: a piano teacher can help set realistic goals for moving through different levels of instruction.
Improving your knowledge: take a trip through the ages by combining history with classical music lessons.
Playing a specific song: want to take your Guitar Hero to another level and play it just like your favorite musician?
Piano is difficult. It requires you to think in ways you've never had to before. You have to interpret music. You have to keep tempo. You have to variate speeds and sounds. You have to work both hands independently of one another.
Oh, and you have to ensure the end result actually sounds good.
But as you work at it, as you improve, you discover new things about yourself. You discover your creative side. You discover your imagination. You discover your ability to stick with a plan.
And you'll discover the music inside of you too.
Looking for a new challenge this year? Maybe it's time to pick up the piano. It's something you'll enjoy the rest of your life.
---
Since 1960, Coltharp Piano World has represented the finest pianos in Memphis, Tennessee, the Midsouth and the world. In addition to quality sales and service we offer moving services, restoration services and master piano tuning. We offer the best new, used and vintage pianos anywhere. And our prices simply cannot be beat. Come and see our newly remodeled showroom and our beautiful new concert hall. We specialize in piano restoration for the southern United States. We welcome your call.
We are located at: 4447 Summer Ave, Memphis, Tennessee 38122 Call us at 901.682.1172